October's PROJECT OF THE MONTH

Courtesy of
"Autumn Indian Corn Card"
Materials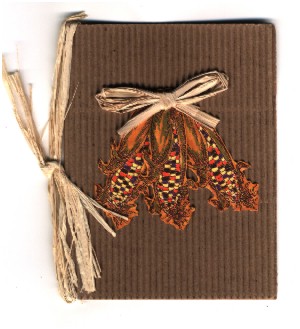 Indian corn stamp
Autumn season greeting stamp
Corrugated cardstock, kraft
Linen greeting card, white
Postcard or blank index card
Natural raffia
Hot glue gun
Glue stick
Embossing ink pad
Copper embossing powder
Markers - cornsilk, purple, orange, green
Scissors
Method
Begin by stamping the Indian Corn image onto the blank index card using embossing ink and sprinkling with copper embossing powder. Heat. Repeat this process to make three cobs of corn. Colour realistically using markers and then cut out each cob seperately. Use an orange marker to colour in any white borders around each cob of corn. Set them aside. On the inside right panel of the linen greeting card, stamp an appropriate autumn greeting (several stamp manufacturers have these messages) using either the dark purple or the bright orange marker to ink the stamp. Apply glue to the back of the linen card and press it into the inside of the corrugated card. NOTE: the white linen card should be cut slightly smaller than the corrugated card so that approximately 1/4" border is left around the interior of the card.
Next, using the hot glue gun, adhere each cob of corn to the front of the corrugated card in a traditional Indian Corn formation. Cut a length of raffia three times the length of the folded card. Insert the raffia inside the card along the folded edge, bring the ends to the outside and tie leaving 2" tails. Cut another piece of raffia about 7" long, tie it in a bow and use hot glue to fasten it to the top of the trio of Indian Corn cobs.
A very earthy Autumn greeting card with the unique texture and appeal of corrugated cardboard and raffia. Wishing you all the happiness this bountiful season has to offer!!
Greeting Card Artwork For This Project: "Sun Stamper", Laurie Hagemaier.
---
September's PROJECT OF THE MONTH
December's PROJECT OF THE MONTH
---
Designed by Mediamage Business Solutions
last modified: October 4, 1996
---