December's PROJECT OF THE MONTH

Courtesy of
"Starry Night Christmas Carolers"
Materials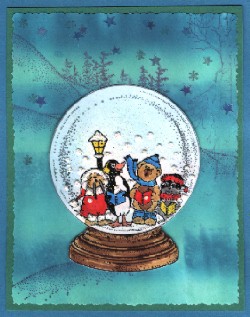 Christmas Carolers stamp
Crystal Ball stamp
Sand/Snow stamp
Linen greeting card, white
Assorted winter tree stamps
White liquid applique
Ultra fine primsa glitter
Opalescent confetti stars
Brayer
Rainbow stamp pad (raised)
Black ink pad
Pale blue ink pad
Black embossing powder
Glue pen
Sponge
Glossy postcards
Green & turquoise cardstock
Paper edgers & regular Scissors
Fine art markers
Method
Begin by inking the brayer on a raised rainbow ink pad. For this particular sample, I used the last two colour bands on the right of a Kaleidecolor dye pad. Roll the brayer across the glossy postcard several times to achieve a consistent background colour. Ink the crystal ball stamp on the black pad and stamp it onto a separate glossy postcard. Colour the base brown to resemble wood.
Stamp the crystal ball again on a piece of scrap paper & cut out the interior of the ball to make a reverse or "mortise" mask. Place the mortise mask over the crystal ball stamped on the postcard & stamp the Christmas carolers into the ball. Emboss the carolers (for no-smudge colouring) in black powder & heat to set. Using fine art markers, add colours to the caroler images. Using the light blue ink pad, sponge in pale colour to create a "glass" look of a snowglobe in the crystal ball. Cut out the crystal ball from the postcard using regular scissors; remember to stay very close to the image outline.
Ink the sand/snow stamp and the assorted winter tree images with a black ink pad & stamp them lightly onto the brayered postcard. By stamping them lightly, they will appear to be in the distance. Practise on a piece of scrap paper first to get the right pressure. Using double-sided tape or mounting dots, mount the cut out crystal ball onto the brayered postcard. Apply white liquid applique to snowy or fuzzy parts of the images & heat to puff. Shake on some loose ultra fine prisma glitter to accent. Place dabs of glue on the sky portion of the brayered postcard & stick the opalescent stars on randomly.
Use paper edgers to finish the edges of the postcard. Mount the postcard onto a piece of emerald green cardstock & do a final mount onto turquoise cardstock.
* Images used in this artwork are from the following companies: Crystal ball (All Night Media), Caroling Critters & evergreen trees (T.Great Cdn. Stamp Company), Sand/Snow & birch tree (Stampendous). Opalescent stars purchased at a discount store. Paper edgers used were Fiskars "deckle".
Artwork For This Project: "The Rubber Ranchhand", Heather Cosh
---
September's PROJECT OF THE MONTH
October's PROJECT OF THE MONTH
Return to Top
---
Designed by Mediamage Business Solutions
last modified: November 13, 1996
---