Meet smiles`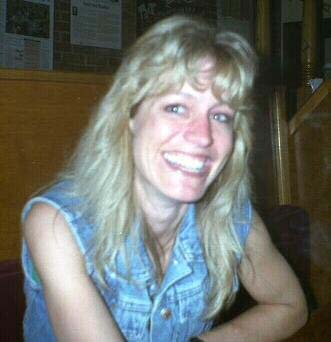 Well, think this will be the shortest page of them all! hehehe!
Where will I start? hmmmmmmmm.........well, I was born and raised in Bewdley, Ontario (no link to here as of yet and doubt there ever will be!) I have lived here as a Bewdley Boonie my whole life of 32 years (right beside mommy and daddy hehe) I have been married to a great guy for the past 12 years and have 3 beautiful and crazed kids ages 3, 6 and 10. (Of course, the crazed part is not a quality that they got from me! hehe) I have a bichon frise dog named Chloe and a stray tomcat named Jasper (the screeching meow sucked me into giving it a home or else never ever getting a good nite's sleep again!).
I was a legal secretary for many years then decided to work for the government for awhile in Health Promotion (needed the money hehe!) then back to my true luv of a legal secretary for a few more years..........but the past two years have been a real fulfilling work experience owning and operating Stamp Garden. I've jest recently starting *tweakin* away the hours with a lil webpage designing so if ya ever need a webpage down......give me a dingle :)
I learned how to rubber stamp and decorate stationary from my mentor, Beth Wood, a friend of my mom's who used to work with her at the wee Bewdley Post Office. Beth's cards always intrigued me and one day I out and out asked her to teach me this strange craft bout 11 years ago now (when I was pregnant with my first born and had some time on my hands to kill) My crazed brother and sister-in-law, (runs in family) convinced me to open up my own stamp business and well the rubber bug bit and won't let go now!
I do have other interests though......I love playing baseball!!! My hub and I are on a local lob ball team and look forward to it every week. And yes......I am a power slugger and great first basewoman even though I don't look big enough to be one, hehe. I enjoy spending many hours with my kids digging away in my gardens and talking to those flowers hehe!! I also love the sun and water......so you can catch me on Rice Lake or Lake Ontario a lot boating, waterskiing, swimming (bikini pic! hehe) and yes....even fishin off the dock on a sunset evening. I love all kinds of music and even dabble a bit on the piano.......will never play like my mom though! Another new interest of mine is computers......love to hack away the nite! Can't think of many more interests except my #1.......my family.......we enjoy doing all kinds of activities together from playing hockey to eating junk food!
I've met alot of friends through this vast world of the internet. Recently I was lucky enough to visit my soul sister in Seattle and we had a great time together during my stay there. Hi Julie.....love ya!
Some of you may be wondering what my real name is......well you will have to email me for that! I chose smiles` as a nick for me cause I always have this huge smile on my face whenever I get on the net! First time I logged in my mouth muscles hurt for a week from smilin` so much! hehehe! As for the little ` after my nick smiles`, I just thought it added some class to the nick!!! LOL
So much for the hmmmmmmmmmmm........what am I gonna say at the beginning of this page eh?
Take care all, keep on the inky pathway or.......you will always have clean fingers??? BUH BYE!!!
Keep smilin!!!!!!
---
Designed by Mediamage Business Solutions
last modified: Feb. 27th, 1997
---